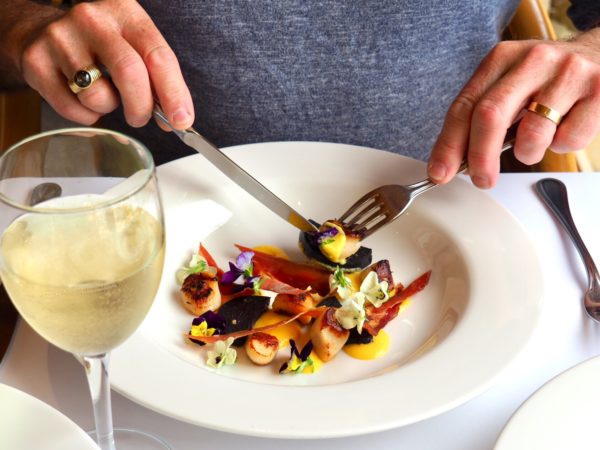 Kangaroo Island Food Wine and Tourism Awards 2018
Two of Kangaroo Island's newest and unique businesses have been awarded for their creativity and passion at the 2018 Kangaroo Island Food, Wine and Tourism Awards.
At a gala dinner for 100 people at the Dudley Wines Cellar Door function centre in Penneshaw last night, Wandering Souls Australia and Table 88 were awarded prizes.
Wandering Souls is a unique product for Kangaroo Island and was awarded the New Tourism Business award for their glamping tent-style accommodation which can be set up in various scenic locations around the Island. Judges were particularly impressed by the marketing and online presence of the new business, established in January this year.
Table 88 is a new tapas-style restaurant which takes advantage of its picturesque North Coast location. Judges awarded the Unique Kangaroo Island Dining Experience to Table 88, highlighting the passion and creativity of the young owners – Caleb Pratt and Stacee Duka.
Value-Added Product was awarded to one of Kangaroo Island's most recognised products – Kangaroo Island Free-Range Eggs. "No salt and pepper required" was the accolade from the judges who said the eggs were a flavour-filled, premium product and the business was well-situated to meet its growing market demand.
One of Kangaroo Island's best-known tourism ambassadors – Craig Wickham – was awarded Outstanding Contribution by an Individual. His successful business with wife Janet – Exceptional Kangaroo Island – was just the start of his contribution to the success of Kangaroo Island as a destination. Craig spends considerable time "pounding the pavement" in North America, promoting Kangaroo Island and many other businesses besides his own. He has done this all while also contributing to the community and civic life of Kangaroo Island in his many volunteer roles.
Young co-owner of Emu Bay Lavender – Eliza Sheridan – was awarded Rising Star for her commitment and passion for the tourism and hospitality sectors, and will spend a week at Southern Ocean Lodge as part of her award.
False Cape's 2015 The Captain Cabernet Sauvignon was awarded Kangaroo Island Wine of the Year from a large field of diverse wines with judges noting its elegant structure and ability to age gracefully over the next 10 to 12 years.
Winners from last year who impressed judges again and backed up their awards from 2017 were  Mercure Kangaroo Island Lodge – Kangaroo Island Dining; Dudley Wines Cellar Door – Cellar Door; Emu Ridge Eucalyptus – Farm Gate Experience; Kangaroo Island Ocean Safari –  Nature-based Tourism Experience.
Full list of winners attached
For more information, contact Megan Harvie on admin@eatdrinkki.com.au or phone 0488 035 887
KI Food Wine & Tourism Awards 2018 Winners
Kangaroo Island Dining                       Sponsor  KIIBA
Mercure Kangaroo Island Lodge
Farm Gate Experience                        Sponsor Sealink
Emu Ridge Eucalyptus Distillery
Cellar Door Experience                       Sponsor OCKI
Dudley Wines Cellar Door
Unique Food and Beverage Experience         Sponsor TKI/TOMM
Table 88
New Tourism Business                                    Sponsor The Advertiser
Wandering Souls Australia
Nature-Based Tourism Experience                 Sponsor Natural Resources KI
Kangaroo Island Ocean Safari
Best Value-Added Product                              Sponsor Rex Airlines
Kangaroo Island Free Range Eggs
Kangaroo Island Rising Star                            Sponsor Southern Ocean Lodge
Eliza Sheridan-Turner
Kangaroo Island Outstanding Contribution by an Individual         Sponsor The Islander Newspaper
Craig Wickham
Kangaroo Island Wine of the Year                  Sponsor Winestate Magazine
False Cape 2015 The Captain Cabernet Sauvignon