The Annual General Meeting of KIBBA at KI Spirits recently was a worthy occasion to celebrate our achievements, network with members and look forward to another year of building the Authentic Kangaroo Island brand and working with and for business on the Island.
Members enjoyed a complimentary cocktail, their fill of delicious flammekueche and the beautiful gardens, all on a warm summery evening.
KIBBA launched its Annual Report, its Election 22 policy paper and reported on a number of its ongoing and new planned projects. We also celebrated growing our membership to 209, with many new Brand Partners and Business Members over the past two years.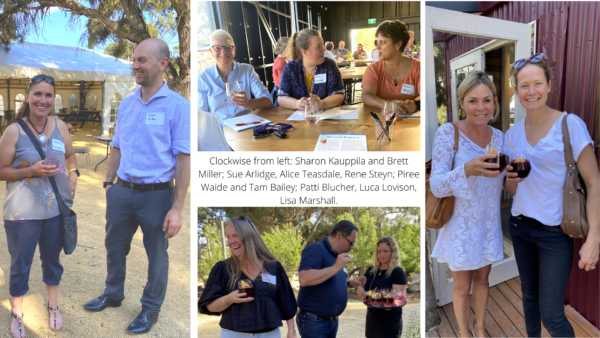 Chair Brett Miller said the past year has been perhaps the most successful in KIBBA's short history with achievements including:
+12% increase in annual membership which currently totals 209 members, including +10% increase in Brand Partners (now totalling 116) and fantastic member retention;
securing more than $300k in Local Economic Recovery Project (LERP) funding to deliver the Collaborative Industry Recovery and Resilience Project (CIRRP) in partnership with AgKI and KITA;
production and distribution of the updated version of the KI community directory, distributed free of charge to the community;
establishment of the online digital directory for Kangaroo Island at www.kangarooisland.org.au
ongoing advocacy to all levels of government in relation to the importance of sustainable industry for KI in keeping with the Island's unique value proposition;
strengthening our relationship with Business SA (BSA) together with our active involvement in quarterly Regional Chambers Conferences to stay connected with counterpart organisations within Adelaide and across South Australia;
writing more than 20 letters of support for our members' projects designed to grow local employment and investment on Island;
continuing to connect with the KI Business Hub team to improve resources and support for Island businesses; and
further strengthening lines of communication (and connection) with Kangaroo Island Council.
He acknowledged the contribution of all the Board members, particularly retiring member Tony Willson, who had given many years of service to KIBBA and its predecessor Business Kangaroo Island.
Brett also acknowledged that 2021 had continued to be a difficult year for many businesses on Kangaroo Island affected by border closures.
"I would like to acknowledge our members and Island businesses doing it tough, particularly those reliant on tourism, pubs, restaurants and face-to-face trade.
"Rest assured KIBBA will continue to work tirelessly to support you, our greater membership and advocate for Island businesses and our industry at large and look forwards to continuing to play a central leadership role in the Island's ongoing recovery."
New Board members Maria Waters (ATEC) and Gerd Beurich (Aurora Ozone Hotel) were welcomed to join re-elected members Sharon Kauppila and Brett Miller. They join remaining board members Blair Wickham, Alice Teasdale, Phillipa Holden and Lee-Anne Helyar, and appointed members Steve Morgan and Peter Davis. The Board will elect its chair at the next Board meeting.
You can see the slideshow presentation from the AGM here.
And for non-members, we welcome you to sign up and join us here.