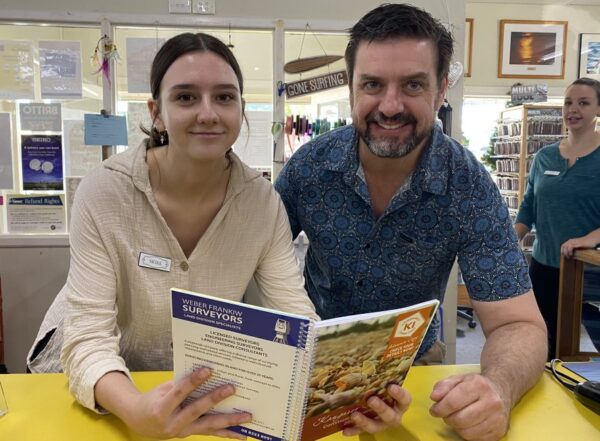 Advance copies of the new KI Community Directory have now been released and are available at Kingscote Gift Shop, Ingram's Home Hardware, Big Quince Print and The Old Mulberry Tree café.
The new directory – a joint initiative of the KI Business and Brand Alliance and Junction  (the KI Community Centre) – is being published as an "advance copy". There will be only 500 copies of this edition in order to allow people to make sure their details are correct.
Changes will be incorporated into the final 2021 edition to be printed in early March. All changes will need to be submitted by February 15, 2021.
The new directory will be available at no charge to residents, thanks to bushfire recovery sponsorship from BizRebuild, Awesome Foundation Fleurieu and Port Clinton General Store. A Kangaroo Island Council grant of $2000 to the project will be made as a donation to the founders of the directory, KI Children's Services, which published the directory since 1991.
For the first time, the directory has been produced on the Island, by Big Quince Print, with Alice Teasdale bringing her design skills and local knowledge to the project.
Advertising for the printed directory has also been re-opened until February 15. Advertising must be submitted online at www.kangarooisland.org.au by following the links at the bottom of the page.
KI Community Centre manager Maree Baldwin said the project was important as part of the Island's recovery. "The directory is so loved. And we are taking our time to get it right, mindful that so many homes were lost in the bushfires and contact details may have changed."
KI Business and Brand Alliance executive officer Shauna Black said the business pages provided an important opportunity for promotion for local business. "Many people still turn to the printed directory to find a certain business. And now we have the digital directory as well to supplement that."
The cover illustration for this edition is a photo taken by KICE student Kelly Schwerdt, the people's choice winner in the Kangaroo Island Art Feast "Boll'art" competition.