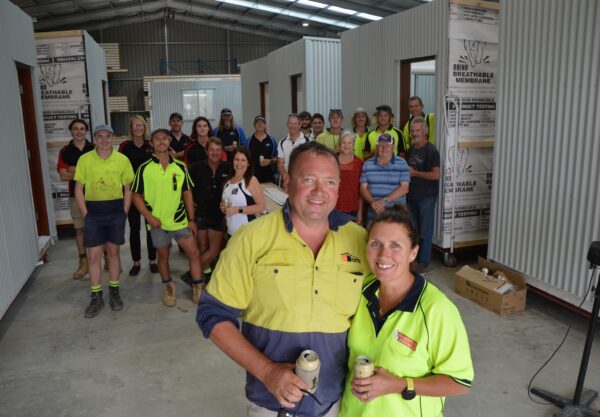 The workers' accommodation at Western KI Caravan Park is set to roll, with Kangaroo Island Tiny Homes about to deliver the 12 modules for final assembly on site.
The project is funded by BizRebuild – the bushfire recovery initiative of the Business Council of Australia – and has enabled a number of local trades and businesses to build their expertise in modular home building.
Kangaroo Island Tiny Homes is the new venture of builders Luke and Sharon Kauppila, who will also continue their traditional residential, commercial and industrial building work.
They bid successfully for the contract to build the much-needed accommodation at the West End, to house workers for the continuing bushfire recovery work.
"We had talked for some time about developing affordable housing on Kangaroo Island. After the devastating fires, we knew it was essential to have this as part of the recovery," Sharon said.
The initial contract from BizRebuild has allowed Kauppila Builders to almost double their workforce as well as invest in a new business site in Kingscote and an 18mx30m shed to house Kangaroo Island Tiny Homes.
They now have a 40-person bunkhouse and further modular home-building projects in the pipeline.
"It has been a bit of a journey getting this all going, but considering we only started thinking and investing in it seriously less than a year ago, we're really proud of our team for what we've developed and achieved in that time," Sharon said.
The bedroom-with-ensuite and communal living modules are now complete and being trucked to the Western KI Caravan Park to be installed and roofed onsite.
It is anticipated the accommodation will be ready for workers by late March.