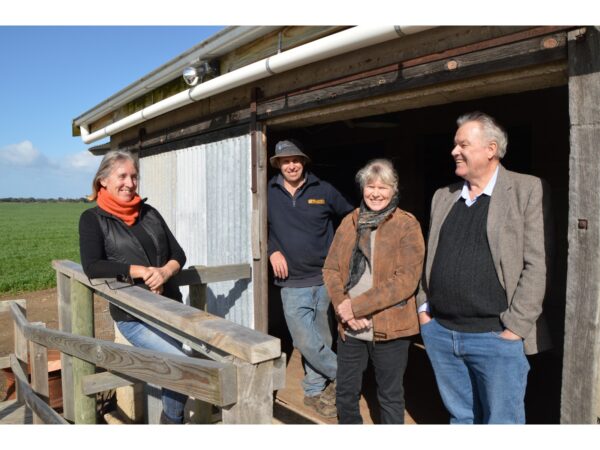 Plans are under way for one of the Island's most audacious projects – a mill to process local wool and make garments here.
The proposal by Kangaroo Island Wool will bring rare skilled manufacturing jobs to the Island and transform one of the Islands's historic and unique buildings as part of an industrial and retail hub at Cygnet River. Tourism and education opportunities will complement the development.
The project has received $900,000 in Local Economic Recovery funding through the National Bushfire Recovery Fund with the aim to have the money spent by June 2022.
An architect has been appointed to the master planning for the project at the historic wool shed site on Playford Highway at Cygnet River, on land owned by Bellevista. KI Wool will lease the facility which meets all the project requirements: main road access, mains water and a landowner prepared to build the required sheds.
There's no design yet or even an artist's impression yet but the KI Wool team is moving ahead to buy the required machinery and meets weekly to keep the ball rolling.
The rough plan is for 300sqm of manufacturing space and 250sqm of retail/tourism space. After that, there are plenty of options – maybe a 360-degree theatre experience, a café, a plaza style arrangement – everything is on the table.
"We started off with an idea to buy a knitting machine and now we've ended up with a plan much grander," KI Wool secretary Greg Johnsson said.
It's the next iteration for the shareholders of Kangaroo Island Wool, who represent about 40 percent of the Island's merino wool production.
KI Wool has already purchased most of its equipment: a mill from Orange, NSW, which comes with its own master spinner who will relocate to the Island; dryer and scourer from the US,; knitting machine from China: and garment machine from Japan.
"It's a flagship opportunity to reinvigorate the wool industry on the Island and provide a unique experience for tourists to understand the industry through a 'fibre to finished article' process."
Supported by a grant from the Government of South Australia and the Australian Government.