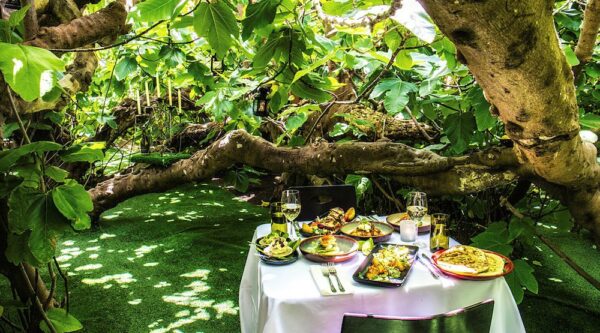 Iconic Kangaroo Island dining experience, the Enchanted Fig Tree, is set to take on a new lease of life with its upcoming series of wilderness dining events – Gastronomo – hosted by some of SA's hottest chefs.
From 11 December 2020, Kangaroo Island visitors will once again dine among the dappled light of the 100-year-old Fig Tree's boughs after the venue closed to the public in 2018 when a localised fire partially burnt the property.
Over Gastronomo's five-month season, diners will be treated to meals that hero local produce created by a range of guest chefs, including the likes of Simon Bryant (Tasting Australia Director), Duncan Welgemoed (Africola) and Emma McCaskill (ex The Pot & Magill Estate Restaurant). While renowned wine critic, Nick Stock, will curate a 100% Kangaroo Island wine list to delight the palate.
After tough start to 2020 with bushfires and the significant tourism impact of COVID-19, the Hannaford Family (who have owned the property housing the Fig Trees for the past 2 decades) had a vision to bring back business to the island through a new outdoor dining concept. Thanks to funding secured through the Australian Bushfire Recovery Grant and local partners including Kangaroo Island Spirits, SeaLink and South Australian Tourism Commission, this concept is set to be reality.
Nick Hannaford says Gastronomo aims to create 'connected and memorable' dining moments. "Inspired by South Australia's stunning locations and the sharing of great food and wine, Gastronomo is also about bringing people together who share the same philosophy and values" says Hannaford.
"It's not just about what a customer tastes and sees, (or shares on Instagram!) It's how they feel or what they remember that counts."
Hannaford comes from a special events and hospitality background, starting out at Jolley's boathouse Bistro in the 1980's working for his mother Belinda Hannaford. He has created fine dining experiences for the likes of Mick Jagger and Jerry Hall, and produced sublime outdoor events ranging from two thousand to two guests, in some of the most challenging outdoor environments around Australia.
Dining experiences at Gastronomo start at $135 per person and include a Kangaroo Island Spirits cocktail on arrival. See SeaLink special tours and packages https://www.sealink.com.au/enchanted-fig-tree
Bookings are now live at www.gastronomodining.com.au