A short trip from the paddock to the still
Kangaroo Island barley set to create some new magic
On a cold blowy Kangaroo Island afternoon, a warming dram of Australian whisky was raised to mark an exciting new project for Kangaroo Island Spirits. It's definitely something to celebrate – Jon and Sarah Lark and the team at Kangaroo Island Spirits are about to make the Island's first single malt whisky.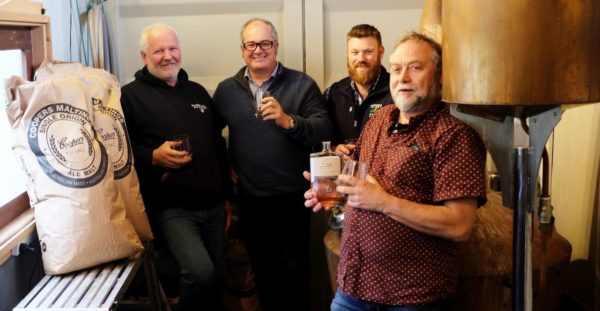 In the KIS still house (L to R): Greg Simons, Drunken Drone Brewery, who will do the first mash runs; Leon Bignell, Local Member of SA Parliament, helping to celebrate the new project; Dennis Jamieson, local manager of Kangaroo Island Pure Grain, the local cooperative who sell the KI barley to Coopers for malting; and Jon Lark, of Kangaroo Island Spirits. The group is flanked by a couple of bags of the Coopers Westminster Malt destined for the initial runs of KIS whisky, and the still called Mary.
Jon's brother Bill and his wife Lyn created Australia's first single malt whisky in the island state of Tasmania way back in 1992. The Tasmanian environment, climate, natural resources and quality produce were key factors in the decision to make that first drop. "Kangaroo Island is a very different island," says Jon, "and we can't wait to see how its unique environs will be reflected in the whisky we produce here. We have always looked to using local resources as far as possible, so we are really excited that the barley we'll be using in the wash has been grown right here."
The single-origin malt supplied by Coopers Brewery has been made from Westminster barley grown by Kangaroo Island Pure Grain, whose representative Dennis Jamieson was among those celebrating. "Kangaroo Island Pure Grain is excited to be part of a local project of such significance," he said. "Our beautiful island is known for its pristine environment and produce, and I'm confident the whisky will reflect this in its excellent quality."
Coopers Brewery, based nearby in Adelaide, is the largest Australian-owned brewery. Maltings Manager, Dr Doug Stewart, has noted that Coopers' new malting plant will process 1000 tonnes of single-origin barley from Kangaroo Island this year, producing a high quality malt. "We used some of this malt to produce the premium quality Coopers 2018 Vintage Ale," said Dr Stewart, "and we are delighted that it is now also to be used in the distillation of high quality spirits. It comes from a pristine environment, it is something a little bit different, and it is marketed as such."
Kangaroo Island Spirits is a family business, a true craft distillery where passion is key to the hands-on approach. KIS was named Australian Distillery of the Year 2018 at Melbourne International Spirits Competition, and their gins, vodkas and liqueurs have consistently won awards since the distillery opened in 2006.
Jon and Sarah Lark are very excited to make Kangaroo Island's first whisky using local malt. They will also be using local port barrels, sourced from Bay of Shoals winery. They're planning monthly runs to begin to build a store of whisky for future release, and expect to offer the first release by the end of 2020. They can't wait to pour a dram for Jon's brother Bill.
"I have been involved in the Australian Whisky Industry for some 26 years and seen its reputation grow to become highly regarded and recognised throughout the world," Bill Lark said. "Given the recognition and achievement of Jon and Sarah and the team at Kangaroo Island Spirits with their award-winning gins and their dedication to quality, I am excited to see that they are going to produce Single Malt Whisky on KI using barley grown on the island. With the reputation of KIS together with that of KI to produce high quality products, I now look forward with much anticipation to their first release of KIS whisky."
For further comment or information contact:
Jon Lark
0408 818 012