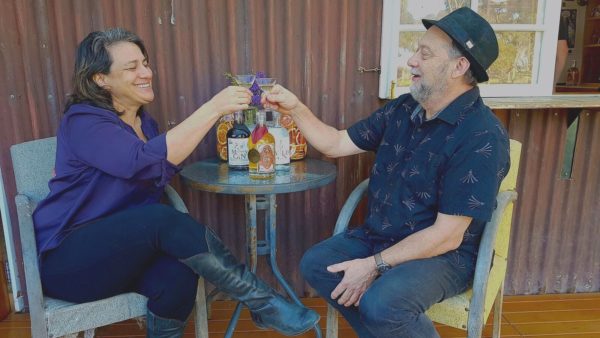 Kangaroo Island Spirits is delighted to announce that they have been awarded the top gong for Old Tom Gin, at the prestigious International Wine and Spirit Competition (IWSC).
The IWSC awards are held in London annually, and renowned the world-over as being one of the toughest spirit judging competitions, so owners of Kangaroo Island Spirits, Jon and Sarah Lark are "tickled pink" with the result.  The first ever Gold medal awarded to an Australian producer in this competition, was only last year, 2017.
The IWSC is in its 49th year.  Entries are placed from 90 countries worldwide and judging takes place in a dedicated tasting premises, with a permanent onsite cellar and more than 400 global experts judging products for seven months of the year.
KI Spirits was launched by the Larks in 2006, when their dream of operating a micro distillery on Kangaroo Island came into being.
This distillery was the first in Australia dedicated to producing premium gin, and their handcrafted products take inspiration from the unique environs found on Kangaroo Island.
"We are very proud that our modest craft distillery on Kangaroo Island has been able to achieve such big things internationally," Jon Lark said.
Of recent times, Kangaroo Island Spirits has won a swag of awards including a 2018 Golds for Old Tom Gin and for Whisky Barrel Gin at the Melbourne International Spirits Competition.  The Mulberry Gin also won a Silver.
The Kangaroo Island Spirits' distillery was named Australian Distillery of the Year for 2018 at the 5th annual Melbourne International Spirits Competition (MISC) held recently and was then shortlisted for the International Gin Producer of the Year 2018 (IWSC).  The judging panel for MISC included trade buyers from top retail stores, sommeliers, distributors and importers, from Australia and the Asia Pacific region.
"We continue to be overwhelmed by the high level Australian and international awards we receive, and we love to see others enjoying what we are passionate about," Sarah Lark said.
"We invite everyone who visits Kangaroo Island to come into our rustic-charmed cellar door and enjoy our range including the gins, along with vodkas and other liqueurs – all produced on-site," Sarah added.
Kangaroo Island Distillery cellar door is open from Wednesday to Monday, 11am to 5.30pm and seven days during school/public holidays.
For more information, you can telephone (08) 8553 9211 or visit kispirits.com.au.
Please contact our team at the distillery for further information.
Sarah Lark                                        sarah@kispirits.com.au
Jon Lark                                          jon@kispirits.com.au