Business workshops, networking events, international trademark registration and a digital business directory – these are all on the agenda for the new board of the Kangaroo Island Business and Brand Alliance (KIBBA).
The new board elected a chairman at its first meeting last week – Brett Miller of Kangaroo Island Dental. While he may be a new face to some, Mr Miller was a member of the previous KI Industry and Brand Alliance (now amalgamated with Business Kangaroo Island) since 2016 and a member of its board since 2017. He is looking forward to bedding down the amalgamation and setting a program of events and support for business on Kangaroo Island. He brings a wide range of experience to the KIBBA Board, including as Group General Manager of Dental Outreach, a previous senior manager at Business SA, an international consultant to business and his tertiary qualifications.
"The Authentic Kangaroo Island brand is now well recognised on Kangaroo Island and beyond, and the relationship with Business SA is strong as shown by the recent Business KI event at the Kangaroo Island Airport. I think the 160-plus members of our new association are ready to work together to have an even stronger voice for the Island and its businesses," Mr Miller said.
KIBBA's membership is diverse with representation across trades, services, retail, tourism, agriculture, the arts, food and beverages. It will aim to collaborate with the newly amalgamated Kangaroo Island Tourism, Food, Wine and Beverage Association to continue successful projects such as the KI Social Media Alliance, Open All Year and build new projects together.
Mr Miller invited all businesses who had not yet joined the association to sign up online at www.authentickangarooisland.com.au. "We are stronger together. Membership provides many benefits, as listed on the website, and keeps everyone in the loop about business news and events."
There are several levels of membership available to suit all kinds of businesses, from Business membership to Brand Partner membership.
Mr Miller thanked the Commissioner for Kangaroo Island Wendy Campana for her support in facilitating the recent industry association amalgamations, which would provide a more united voice for island industry and business and for her ongoing support in building business capacity and skills on the Island. He also thanked the previous boards of KIIBA and BKI – particularly chairs Tony Nolan and Sharon Kauppila – for their foundation work in establishing strong organisations.
KIBBA has the ability to appoint several more members to the board and plans to approach several business people to join the board to round out its representation of business and industry on Kangaroo Island.
For more information about the new KIBBA or membership, please email info@authentickangarooisland.com.au.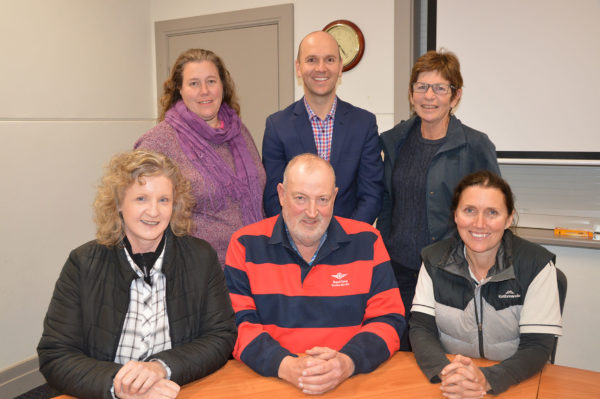 KIBBA Board members, back Alice Teasdale (Big Quince Print), Brett Miller (KI Dental, Chair), Jayne Bates (Cape View Cottage). Front, Maria Morgan (ATEC), Tony Willson
(A & G Willson Earthmovers), Sharon Kauppila (Kauppila Builders, Deputy Chair). Absent: Phillipa Holden (KI Natural Resources), Cathleen Wallis (Sealink).