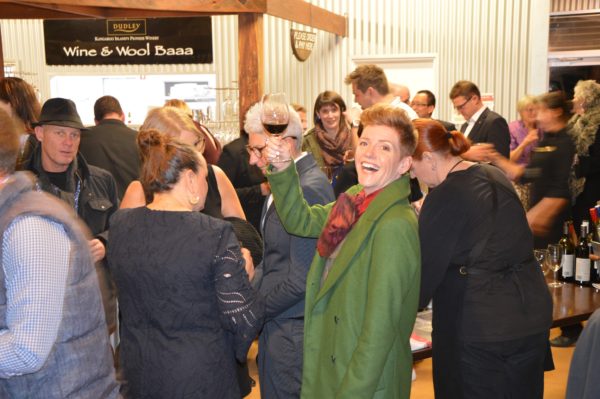 Kangaroo Island's outstanding products and  experiences were showcased at the annual Food, Wine and Tourism Awards at Dudley Cellar Door. Guests enjoyed an exquisite menu prepared by Chef Marion Trethewey of St Austell Farm featuring authentic local produce, which was accompanied by a wide range of local beer, wine, and spirits.
The Minister for Agriculture, Food and Fisheries and the Minister for Tourism, The Hon. Leon Bignell MP was the key speaker on the night. "Kangaroo Island  offers some of Australia's best culinary tourism experiences, and these Awards recognise and  celebrate everyone who works in the food, beverage and tourism sectors on Kangaroo Island," Minister Bignell said.
Kangaroo Island Food, Wine and Tourism Winners
Kangaroo Island Dining: Mercure Kangaroo Island Lodge – American River
Farm Gate Experience: Emu Ridge Eucalyptus – MacGillivray
Cellar Door Experience: Dudley Wines Cellar Door – Penneshaw
Unique Food & Beverage Experience: Hannaford & Sachs – Snellings Beach
Business Development: Dudley Wines Cellar Door – Penneshaw & Kangaroo Island Distillery – Cygnet River
Nature-Based Tourism Experience: Kangaroo Island Ocean Safari – Penneshaw
Best Value-Added Product: American River Snaptop Oysters – Kangaroo Island Shellfish
KI Outstanding Contribution by an Individual: Pierre Gregor & the late William August Boettcher (Augie)
Kangaroo Island Wine of the Year: Kangaroo Island Trading Co. – 2015 Shiraz
The Awards were jointly hosted this year by the Kangaroo Island Food and Wine Association (KIFWA) and Tourism Kangaroo Island (TKI). In a joint statement, KIFWA Chairman, Tony Nolan, and TKI Chairman, Pierre Gregor, said "After the tremendous success of the relaunch of the Kangaroo Island Food and Wine Awards last year, it is with great satisfaction we have now included specific tourism awards, recognising how closely related these two sectors are, in the minds of our consumers and also business on Kangaroo Island."
The winners were chosen from a number of finalists who all demonstrated a commitment to providing high standard of food, beverage and tourism products and experiences on KI. The Commissioner for Kangaroo Island, Wendy Campana who jointly judged the award for 'Business
Development' stated "the bar has been set extremely high this year with businesses, across each of the categories, living up to KI's reputation for providing premium and authentic culinary and tourism experiences.
"Kangaroo Island's visitation continues to grow and these awards celebrate the diverse and authentic offerings that KI businesses provide, which continue to attract visitors from across the world," Wendy Campana said.
For more information on the Food, Wine and Tourism Awards visit www.eatdrinkki.com.au.
The Kangaroo Island Food, Wine and Tourism Awards were made possible with support from SeaLink, the Kangaroo Island Industry and Brand Alliance, the Tourism Optimisation Management Model, the Office of the Commissioner for Kangaroo Island, the Department of State Development, Natural Resources Kangaroo Island, Regional Express, The Islander, Evans + Ayers, the Aurora Ozone Hotel, the South Australian Tourism Industry Council, and the South Australian Tourism Commission.