Kangaroo Island is taking over Adelaide in the month of August, with two art shows and a great restaurant experience thrown in for good measure.
La Boca Bar and Grill, at the Stamford Plaza, will showcase Kangaroo Island produce on its menus for the entire month, as well as offering a wide selection of Kangaroo Island beverages too.
Chef Nicolas Arriola, well know for his Argentinian cooking will present menus featuring Island produce, and each Sunday he will host a beverage tasting. A degustation dinner will be held at the end of August.
This Island / La Boca partnership came about after the Chairman of the Food and Wine Association and Kangaroo Island Industry and Brand Alliance, Tony Nolan, met up with Nic Arriola at Tasting Australia.
"After meeting Nic and his team and seeing their amazing attention to detail, it was immediately apparent that commonalities existed between La Boca and Kangaroo Island," Tony Nolan said.
"I am very proud of our Island producers and the opportunity this presents to showcase their products in an amazing 5-star establishment like Stamford Plaza La Boca Bar and Grill," he said.
Likewise, Chef Nic Arriola is delighted with this opportunity.
"The partnership between La Boca Bar and Grill and Kangaroo Island is very exciting for me personally and one I believe will continue well beyond August," he said.
"It is amazing how easy it is to execute such wonderful dishes using produce from this region and I can't wait for our customers to taste the exclusive menu we have created together with Kangaroo Island producers," Nic Arriola said.
During the month-long promotion, Stamford Plaza will offer fantastic accommodation and dining packages, and a competition will be run at La Boca with the prize donated by Sealink. Drop your card into the bowl at La Boca to enter the draw to win a great trip for two to Kangaroo Island.
Some of the Island producers to be featured are: KI Shellfish, Southrock Lamb, Lake Farm Pigs, Island Pure Sheep Dairy, Clifford's Honey Farm, The Figgery, Kangaroo Island Olives, Island Beehive Honey, Kangaroo Island Spirits, Dudley Wines, Bay of Shoals Wines, False Cape Wines, Islander Estate Vineyard, The Stoke Wines, KI Brewery, Drunken Drone and Colony Cove Ciders.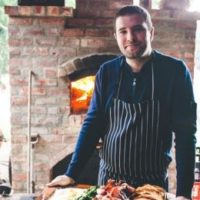 The National Wine Centre is the venue for the Kangaroo Island SALA event, showcasing 23 artists depicting this year's theme …How Do We Love Thee? Let Us Count The Ways – KI The Intertidal Zone. Curated by the talented Fleur Peters, this annual pilgrimage of KI artists to the mainland is a highlight of the SALA calendar, with Fleur and artists on hand daily to meet visitors. The National Wine Centre will also showcase KI wines during the SALA event.
The Flinders University Gallery is hosting the Country Arts touring exhibition Island to Inland, featuring 10 Island artists, depicting their experiences of isolation and inspiration living on the Island.
It's all happening in August – call and book a table now to enjoy one of La Boca's special dining events, or stay the night at the Stamford Plaza and take the time to visit the two art exhibitions on offer.
La Boca Bar and Grill's support of Kangaroo Island is the result of combined work by the Food and Wine Association and more than 12 months of promotions via the Office of the Commissioner for Kangaroo Island through its Kangaroo Island Beverages Project, which recognises the growing reputation of the Island's fine food and wine. Commissioner Wendy Campana has led the charge in promoting Island beverages on the mainland, and the investment in this and other projects is starting to bear results for Island producers. This project is also supported by DSD and PIRSA.
For more information on the month long events at La Boca and the two art exhibitions, contact: admin@eatdrinkki.com.au or kylie@tourkangarooisland.com.au. Details for the SALA Wine Centre and Flinders University Gallery exhibitions can also be found on our Events Page.
See the map here.