"The grant will provide invaluable support to individuals and businesses and be tailored to meet their needs. The expo and research projects will guide future development of the Tourism, Hospitality and Beverages industries on the Island, especially at this time of growth."
KI Growth Project – Stage 2
Kangaroo Island Business and Brand Alliance has secured $135,000 in the Australian Government's Building Better Regions Fund (BBRF) grant program. Together with $45,000 plus in-kind support from the Office of the Commissioner for Kangaroo Island, this program will deliver a range of events, training and capability building for Kangaroo Island.
---
Kangaroo Island Industry Exchange
Business praises "speed dating" event – MEDIA RELEASE
14 August 2019
Thirty Kangaroo Island businesses took advantage of the Industry Exchange last week to meet new businesses and learn how they can work with each other.
Well-established businesses such as Dudley Wines Cellar Door and Sealink participated in a "speed dating" event with very new businesses such as Beach Barista and Kangaroo Island Oats, on the first day.
The 15-minute "dates" saw people moving from display to display, talking about their products and how they could work together, as well as meeting new people and learning more about what is on offer on Kangaroo Island.
While most were involved in the tourism, food, wine and beverage industries, there were also service providers, such as Big Quince Print and Seaside Beauty.
On day two, a range of industry experts and local services were available to help businesses through answering questions and giving business tips. They included representatives from SA Tourism Commission, Tradestart and Food SA, as well as locals such as Josh Sheppard Electrical. A range of private businesses were also represented, such as Finlaysons Lawyers, My Travel Research and Jaba web designers.
Participants were enthusiastic about the value of the event.
Hugh Rischbieth of One Kangaroo Island accommodation said it was a "terrific opportunity for Kangaroo Island businesses to work together for the long-term benefit of the Island. I've met producers and found new businesses… it all makes me a better ambassador for the Island."
Julie Helyar of False Cape Wines agreed. "We've been around a while but I've met people I didn't know. I might have heard of their business but now I can put a face to a name and I know more about their offering." As she and husband Jamie prepare to launch their new cellar door, Julie said the most valuable appointments on day two were with SATC for Facebook marketing, with Tourism Tribe about targeting a sales pitch to the right customers, and Vincreative for website tips.
Carolyn Childs of My Travel Research was guest speaker at the dinner event between the two days. "One-on-one works really well. I know it works really well for my business. In a knowledge business, people will only buy from you if they are confident you have the knowledge and this kind of event is a great way to show that to people."
The two-day event at the Aurora Ozone Hotel was conducted by the KI Tourism Food Wine and Beverage Association and the KI Business and Brand Alliance with funding support from the Australian Government through their Building Better Regions Fund and from the Office of the Commissioner for Kangaroo Island.
"This type of program supported by funding from the Australian and State Governments and run by the industry associations makes sure that the outcomes are targeted and gives a chance for the associations to pilot activities that could continue, if successful, in future years" said Wendy Campana, Commissioner for Kangaroo Island.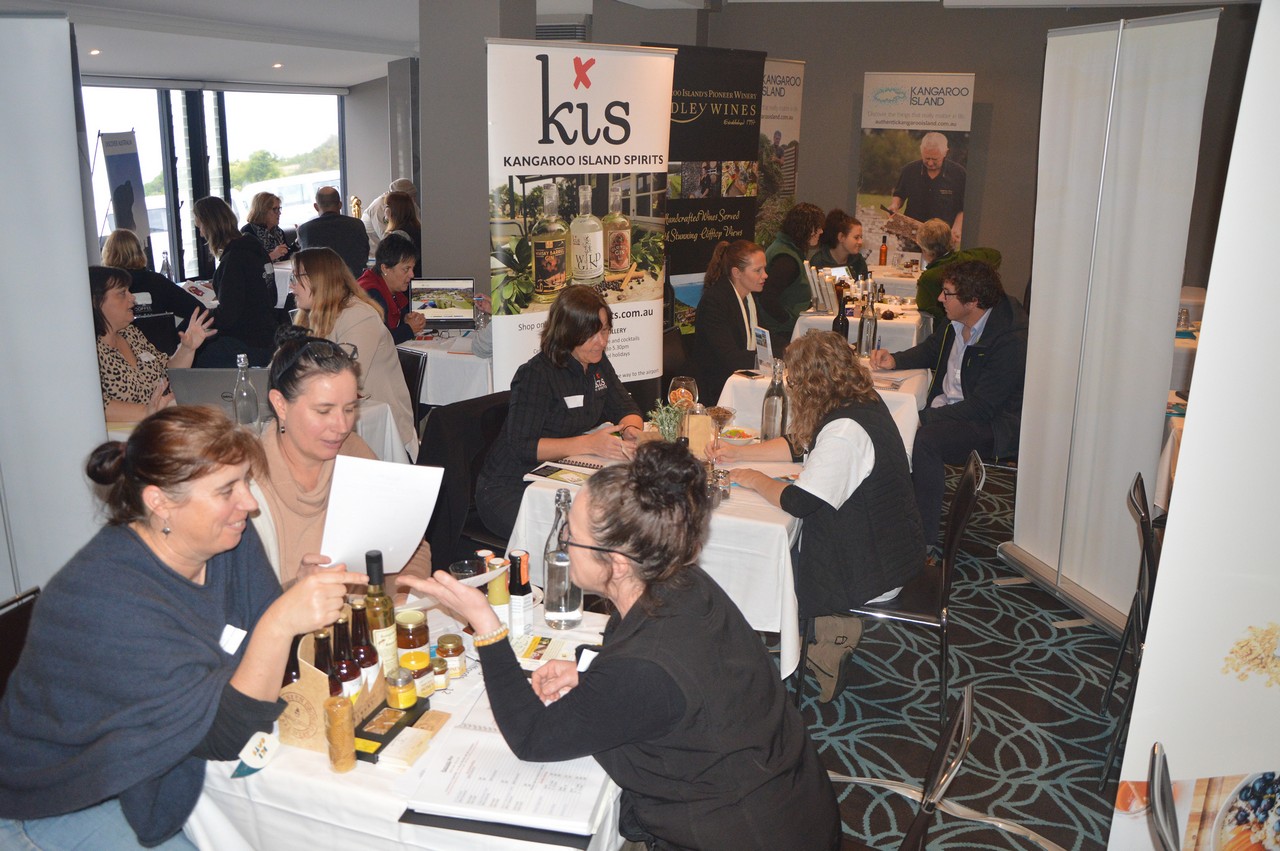 ---
Positioning Kangaroo Island Businesses for Strategic Growth Program
For more information contact Jennifer Trethewey on 8553 4525 or email projects@authentickangarooisland.com.au
More information on Julia Mann, Clover Strategy
---
Kangaroo Island Emerging Leaders Program
MEDIA RELEASE
21 PEOPLE VYING FOR 10 POSITIONS ON LEADERSHIP PROGRAM
23 May 2019
The second Kangaroo Island Emerging Leaders Program, being conducted with funding support from the Australian Government through their Building Better Regions Fund and from the Office of the Commissioner for Kangaroo Island (OCKI), starts on 16 May 2019.
The funding for this year's program was secured by the industry associations on KI, led by the KI Business & Brand Alliance (KIBBA) with project support provided by Jennifer Trethewey from OCKI.
"The Leadership Program provides an incredible experience for participants from a range of industries to bring tangible and real growth in leadership to the Island by developing skills and confidence amongst KI business and emerging leaders. Individuals are challenged to leverage their strengths and confront areas for personal development and are guided through the program by prominent leader Brian Cunningham who has a long history in working with leaders in government, the private sector and in sport, KIBBA manager Shauna Black said.
"It's tremendous to think that we attracted 21 candidates and I thank all of them for taking on the challenge of putting themselves forward for selection. I know that many of the past leadership program group spent time talking to potential candidates for this year's program and I thank them for their support."
The successful 10 candidates are: Sarah Strong-Law, Dennis Jamieson, Lyn Dohle, Tam Bailey, Melissa Grimes,      Jennifer Trethewey, Maria Morgan, Simon Windsor, Carly Bussenschutt, & Sophie Sheridan.
"The selection panel considered a number of factors in determining the successful candidates such as their:
Leadership aspirations
Vision for KI
Industry and community organisations in which they have participated
Qualifications or aspirations for training and development
Availability for the five-month program
The panel was also interested in diversity of industries represented and as far as possible achieving a gender balance.
"It was a very tough task for the panel to choose the successful candidates and I also thank all those who put their name forward for selection," Commissioner for Kangaroo Island Wendy Campana said.
The selection panel members were Tony Nolan (Chairman, KIBBA), Sue Arlidge (Consultant), Jayne Bates (SA Tourism Commission Board Member and community leader), Brian Cunningham (Leader of the Program) and Wendy Campana (Commissioner for Kangaroo Island).
The program starts on 16 May with a half-day workshop and a series of "one-on-one" coaching sessions with Brian Cunningham, which continues over a five month period culminating in an "Adelaide Immersion" 2 day experiential visit at the conclusion of the Program. Candidates will also have a series of psychometric tests to gain further insights into their leadership styles working with organisational psychologist Tim Ridgway.
Brian said "last year we had a strong group of committed KI leaders and I am looking forward to working with our new group. The 2018 Program received very favourable feedback and in 2019 we have another outstanding group who will have a terrific growth opportunity in front of them"