Event Navigation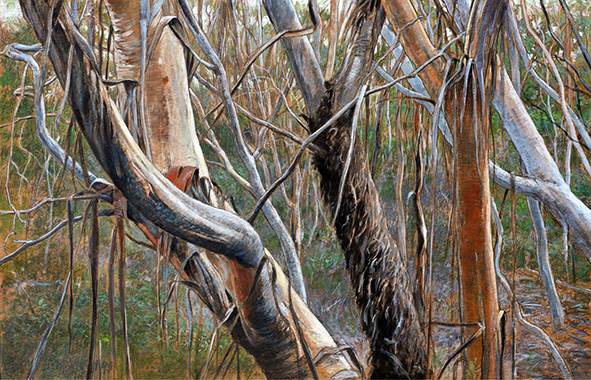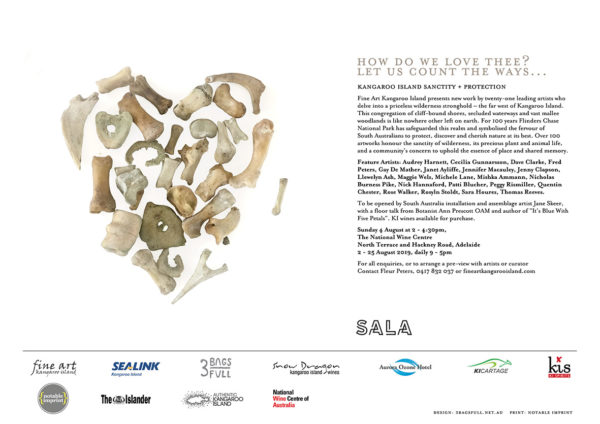 Fine Art Kangaroo Island is excited to bring the Island's leading artists to the wider South Australian community again as we present our  10th SALA tour to the mainland this August.
Twenty-three of the Island's leading artists are back at the National Wine Centre for the month of August.
Please join us  for the official opening by
 Jane Skeer
Award-winning South Australian assemblage & installation artist 
(also a former resident of Kangaroo Island!)
Keynote address by
Ann Prescott, Botanist
(Author of Its Blue With Five Petals)
Sunday 4 August, 2019
2 – 4.30 pm
With so much to inspire the island's artists, artworks featured in our exhibition space at Adelaide's National Wine Centre bring to life thought-provoking themes from Island life. The 2019 exhibition How Do We Love Thee? Let us count the ways… Sanctity + Protection has galvanised our artists like never before.
KI has one of the last remaining intact natural environments in Australia and indeed the world. In 2019 our artists highlight the current threats to this precious and beloved wilderness and their belief in its sanctity… thus honouring and recognising the interconnectedness of all nine previous SALA exhibition themes.
No matter your connection to Kangaroo Island, this exhibition promises to touch you in a way that you have not experienced before.  More than a collection of works, this is a breathtaking expression of the way islanders feel about their home. For those for whom Kangaroo Island holds a far-off fascination, to those who long to return, and most especially those for whom she is the beautiful bedrock of daily life, this event cannot be missed.
Featured Artists: Audrey Harnett, Caroline Taylor, Cecilia Gunnarsson, Dave Clarke, Evette Sunset, Fred Peters, Gay de Mather, Janet Ayliffe, Jennifer Macauley, Jenny Clapson, Llewelyn Ash, Maggie Welz, Michele Lane, Mishka Ammann, Nicholas Burness Pike, Nick Hannaford, Patti Blucher, Peggy Rismiller, Quentin Chester, Rose Walker, Roslyn Stoldt, Sara Hourez and Thomas Reeves.
Work by award-winning and exciting emerging artists. Daily opportunities to meet artists and curator.
---